When it comes to having a fence on your property, selecting the right fence installers in Mercer County is crucial. A well-installed fence not only enhances the aesthetic appeal of your property but also ensures privacy and security. This article serves as a guide to help you recognize the top Mercer County fence installers to get the best outcome for your fencing project.
Fence Installers in Mercer County | Key Things to Look for When Selecting One
They Have Expertise and Experience:
Experience is a critical factor when choosing a fence installer. Seasoned professionals bring a wealth of knowledge about different fencing types, suitable for various properties and landscapes. Look for installers with a proven track record, demonstrated through their portfolio of completed projects. Certifications and specialized training are also indicators of a committed and knowledgeable fence installers in Mercer County, NJ.
They Use High-Quality Materials:
The longevity and appearance of your fence largely depend on the quality of materials used. Top fence installers in Mercer County prioritize the use of durable materials that can withstand local weather conditions. Whether it's robust woods, corrosion-resistant metals, or high-grade composites, these professionals offer a range of materials to meet diverse needs. They also ensure these materials are sourced from reliable suppliers, guaranteeing their quality.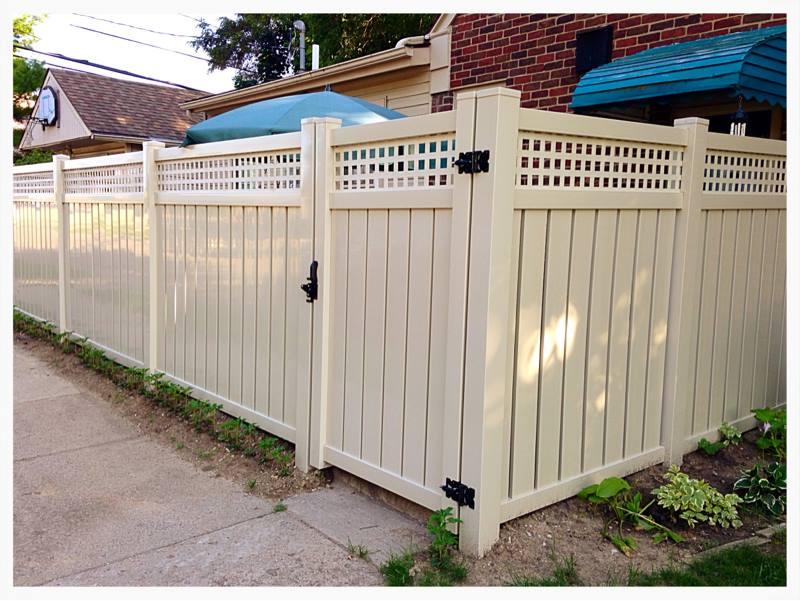 Good Customer Service and Communication
Excellent customer service is a hallmark of the best Mercer County fence installers. These professionals maintain open lines of communication, keeping clients informed throughout the installation process. They are transparent about costs, provide clear timelines, and are readily available to address any concerns. Post-installation support is also a sign of a dependable installer, indicating their commitment to customer satisfaction.
They Have a Local Reputation and References
A strong local reputation in the area is a testament to an installer's reliability and quality of work. Read online reviews and seek testimonials from past clients to gauge their experiences. Personal recommendations from friends or family can also be invaluable. If possible, view some of their previous installations to assess their craftsmanship firsthand.
Licensing, Insurance, and Warranties
Professional fence installers should possess the necessary licenses and insurance to operate in Mercer County. This protects you from liability and ensures that the work is up to code. Additionally, reputable installers offer warranties or guarantees on their work, providing you with peace of mind and assurance of their confidence in their craftsmanship.
In conclusion, choosing the right fence installer in Mercer County is a decision that should not be taken lightly. By considering factors such as expertise, quality of materials, customer service, local reputation, and the presence of proper licensing and warranties, you can confidently select a professional who will meet your fencing needs effectively and efficiently.
Are You Looking for Highly-Experienced and Reputable Mercer County Fence Installers?
If you're looking for great fence installers in the Mercer County, New Jersey area, Direct Fence is here to take care of you. Our years of experience in the fence business have helped us create a fence installation process that is truly second-to-none. From small residential fences to large commercial fencing, we provide superior fence installation. We provide fence installation services in the area of new construction homes, existing homes, condominium/apartment complexes, commercial/office buildings and development/perimeters. We specialize in installing vinyl fencing, wood fencing, aluminum fencing, chain link fencing, and more! Our fence installations are done by seasoned professional contractors. We serve much of NJ including North Jersey, South Jersey, and the Jersey Shore areas, as well as Staten Island. New Jersey service counties include: Monmouth County, Essex County, Morris County Sussex County, Middlesex County, Union County, Warren County, Bergen County, Ocean County, Mercer County, Hunterdon County and more! Service towns in the Mercer County, New Jersey area include: Princeton, Princeton Junction, Lawrence Township, Hopewell, East Windsor, West Windsor, Groveville, Hamilton, Hamilton Square, Pennington, Robbinsville, and many more! For more information or to receive a free quote, give Direct Fence a call or fill out our contact form.
NJ Vinyl Fence Supplier & Installation Company Home
Other Posts:
North Jersey Fence Installation
Staten Island Fence Installation
What to Look for in a Fence Installer
Key Things to Look for in a Union County Commercial Fencing Company