Selecting the appropriate type of commercial fencing in Somerset County is a crucial decision for businesses. Whether you own a retail store, manufacturing facility, office building, or any other commercial property, the right fencing can provide security, aesthetics, and functionality. The area's diverse landscape and unique business needs require careful consideration when choosing the right type of Somerset County commercial fencing. In this article, we'll explore the factors to consider and the various options available to help you make an informed decision.
Commercial Fencing in Somerset County | Choosing the Best
Define Your Objectives:
Before diving into the world of Somerset County commercial fencing options, it's essential to define your specific objectives and requirements. Consider the primary purposes your fence will serve. Common objectives include:
Security: Protecting your property from trespassers, theft, and vandalism is often a top priority for businesses. In this case, high-security fencing with features like anti-climb design and electronic access control may be necessary.
Privacy: If you want to shield your commercial property from prying eyes or simply create a more secluded environment, consider privacy fencing options like wood or vinyl.
Aesthetics: Your fence can also contribute to the overall appearance of your property. If you aim to enhance curb appeal or match the fence with your brand's aesthetic, decorative fencing materials may be more suitable.
Safety: Fencing can help create safe zones within your property. If you have outdoor areas where employees or customers gather, safety fencing can protect them from potential hazards.
Functionality: Think about how you want your fence to function. Will it serve as a property boundary marker, a barrier to keep wildlife out, or a decorative element?
Understanding your objectives will guide your decision-making process and help you select the most appropriate type of commercial fencing in Somerset County.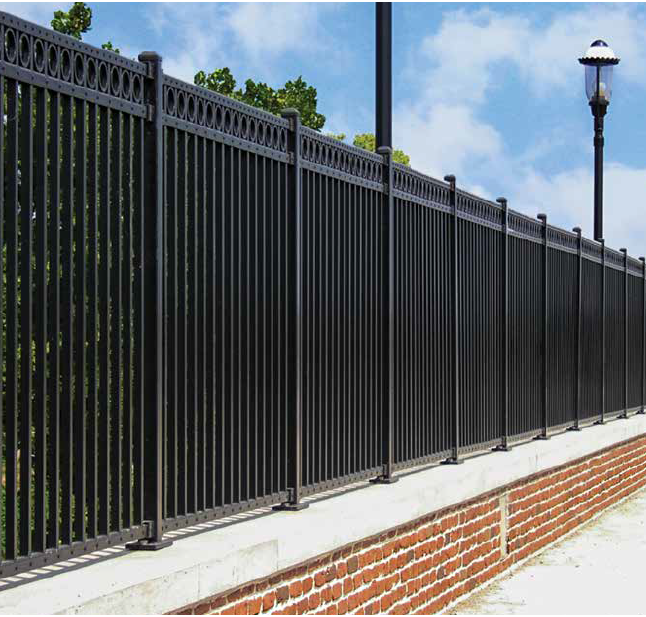 Consider Local Regulations:
Somerset County, like all areas, has its own zoning regulations and building codes that govern the installation of commercial fences. Before proceeding with your fencing project, contact the local authorities to ensure that you comply with all relevant regulations, including height restrictions, setback requirements, and any special permits or approvals needed.
Evaluate Material Options:
Commercial fencing in Somerset County comes in various materials, each with its advantages and disadvantages. Consider the following materials:
Chain Link: Chain link fencing is cost-effective, durable, and low-maintenance. It is often used for security purposes but may lack aesthetic appeal.
Wood: Wooden fencing offers a classic and natural look. It can provide both privacy and security, but it may require more maintenance to prevent rot and decay.
Vinyl: Vinyl fencing combines the aesthetics of wood with low maintenance. It is durable and resistant to weather and pests.
Ornamental Metal: Ornamental metal fences add elegance and security. They come in various styles and can be customized to fit your branding or design preferences.
Concrete: Concrete walls or fencing are ideal for maximum security and privacy. They are long-lasting but can be expensive to install.
Mesh Panel Systems: These versatile systems offer a combination of security and aesthetics. They can be customized and are suitable for various applications.
The choice of material should align with your objectives and budget while considering the local climate and maintenance requirements.
Assess Security Needs:
Security is often a top concern for commercial property owners. Depending on the level of security required, you may need to consider additional features such as:
Security Toppings: For chain link or metal fencing, consider adding security toppings like razor wire or barbed wire to deter trespassers.
Electronic Access Control: Implement electronic access control systems with key card readers, keypad entry, or biometric scanners to restrict access to authorized personnel.
Anti-Climb Design: Choose fence designs that are difficult to climb to prevent unauthorized access.
Surveillance Integration: If security is paramount, integrate surveillance cameras into your fencing system to monitor your property 24/7.
Factor in Maintenance:
Different fencing materials require varying levels of maintenance. Wood may need regular staining or sealing, while vinyl and metal typically require minimal upkeep. Consider the long-term maintenance costs and commitments associated with your chosen material to make an informed decision.
In conclusion, choosing the right type of commercial fencing in Somerset County is a critical decision that requires careful consideration of your objectives, local regulations, material options, security needs, and maintenance requirements. By following these guidelines and seeking input from experienced fencing professionals, you can select the perfect fencing solution that not only meets your business's needs but also enhances the overall appearance and security of your Somerset County, NJ property.
Looking for Professional Somerset County Commercial Fencing Installation Services?
If you're looking for a commercial fence installation company in the Middlesex County area, Direct Fence is here to take care of you. Our years of experience in the fence business have helped us create a fence installation process that is truly second-to-none. From small residential fences to large commercial fencing, we provide superior fence installation. We provide fence installation services in the area of new construction homes, existing homes, condominium/apartment complexes, commercial/office buildings and development/perimeters. We specialize in installing vinyl fencing, wood fencing, aluminum fencing, chain link fencing, and more! Our fence installations are done by seasoned professional contractors. We serve much of NJ including North Jersey, South Jersey, and the Jersey Shore areas, as well as Staten Island. New Jersey service counties include: Monmouth County, Essex County, Morris County Sussex County, Middlesex County, Union County, Warren County, Bergen County, Ocean County, Mercer County, Hunterdon County and more! Service towns in the Somerset County, New Jersey area include: Hillsborough, Bernardsville, Bound Brook, Somerset, Bridgewater, Basking Ridge, South Bound Brook, Bernards Township, Montgomery, Bedminster, Somerville, Raritan, Skillman, Branchburg, and many more! For more information or to receive a free quote, give Direct Fence a call or fill out our contact form.
NJ Vinyl Fence Supplier & Installation Company Home
Other Posts:
North Jersey Fence Installation
Staten Island Fence Installation
Why it's Recommended to Install Commercial Fencing
Key Things to Look for in a Union County Commercial Fencing Company
Signs of Quality Fence Installers in Mercer County