When you're a parent, your kids are a factor in almost every decision you make.  Building a fence that keeps them secure in your yard is a great way to ensure their outdoor play is safe and independent.  At Direct Fence, we install fences throughout the New Jersey area.  Our signature is installing fences that promote outdoor security while looking stunning from a style standpoint.  In today's blog, we're breaking down what to look for in outdoor fences for kids that keeps them safe while giving them the whole yard to play in!
Safest Outdoor Fences for Kids
We consider both vinyl and aluminum fences to be the safest and strongest outdoor fences for kids.  In addition to being great for the little ones, there are numerous other advantages that makes these fences great to own.
Tall Sturdy Construction:
A tall sturdy fence keeps out unwanted visitors and loose animals.  To make your fence safe ultra-sturdy aluminum or vinyl fence that is at least 5 feet tall will keep your yard protected.
No Exposed Spears:
Aluminum fences come with a wide range of styles including ornamental spears.  While these exposed spears are popular and regal, curious kids can harm themselves on them.  Opting for the stylish flat top rails will protect little hands.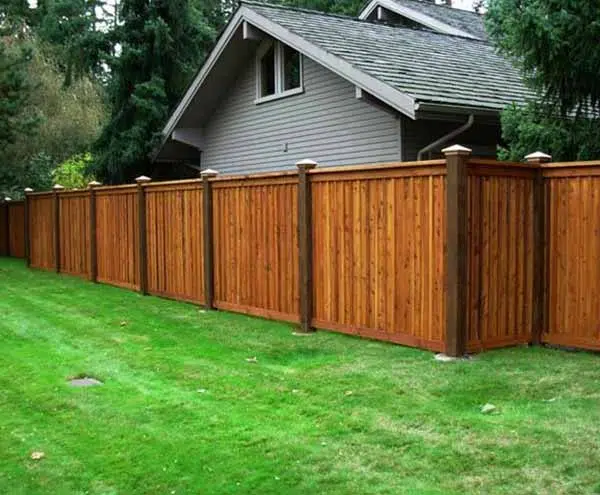 Secure, Easy to use Gate:
Kids should not be able to open the gate independently.  Additionally, visually being able to monitor is the gate is latched or unlatched adds safety.
Splinter Free Material:
Wooden fences are rustic but filled with potential splinters.   For young fingers, aluminum and vinyl are best.
Privacy:
For most New Jersey parents, privacy and safety go hand in hand.  Creating a secluded outdoor space for the family requires a tall solid-panel vinyl fence.  This style will block the gaze of anyone outside the yard.  Vinyl fences are popular for pools.
Creativity:
The one benefit of a wooden privacy fence is the ability to foster creativity in your children.  Paint the outside surface of the fence with moisture resistant exterior paint to protect the fence from wear.  Paint the interior side of the wooden fence with blackboard paint.  Provide your children with sidewalk chalk and watch creativity explode.   They can draw a superhero den or a fairy garden.  They can explore the wilds of Africa or the mountains of Tibet.  You will not hear there is nothing to do, because they can draw their favorite stories on their wall.   You can even have neighborhood art contests and get to know your neighbors.  When the evening changes the backyard into outdoor entertainment, glow in the dark chalk will amuse adults.   There is no limit to a blackboard fence.
Safest Outdoor Fences for Kids:
Firstly, both vinyl and aluminum are low maintenance materials.  You'll never need to re-paint or re-stain these fences.  On top of that, you can expect them to both essentially last a lifetime in the elements.  Finally, their elegant modern style looks exceptional alongside many different homes.  With the peace-of-mind that the perfect fence provides, you can feel great to give your kids free reign over the yard.  For the most part, the things that make the best outdoor fences for kids are similar to what makes the best fences period.
Looking for a Great Fence Installation Company in New Jersey or Staten Island, NY?
If you're looking for a highly-experienced and professional fence installation company, Direct Fence is here to take care of you. Our years of experience in the fence business have helped us create a fence installation process that is truly second-to-none. From small residential fences to large commercial fencing, we provide superior fence installation. We provide fence installation services in the area of new construction homes, existing homes, condominium/apartment complexes, commercial/office buildings and development/perimeters. We specialize in installing vinyl fencing, wood fencing, aluminum fencing, chain link fencing, and more! Our fence installations are done by seasoned professional contractors. We serve much of NJ including North Jersey, South Jersey, and the Jersey Shore areas, as well as Staten Island. New Jersey service counties include: Monmouth County, Essex County, Morris County Sussex County, Middlesex County, Mercer County, Hunterdon County Union County, Warren County, Bergen County, Ocean County and more! For more information or to receive a free quote, give Direct Fence a call or fill out our contact form.
NJ Vinyl Fence Supplier & Installation Company Home
Other Posts:
North Jersey Fence Installation