With a gate installation, whether commercial or residential, you get to choose from a wide variety of options.  You'll be able to choose the design, materials, and style of your gate, as well as what kind of power source and motor it depends on.  This gives you the flexibility to find the perfect gate for your needs.
Gates for Property and Driveways | NJ Gate Installation
Swing Gates:
Single swing gates use a single gate piece and open in the same way that a standard bedroom door would.  Typically, swing gates open inward to avoid stretching out beyond the property they protect.  Swing gates are generally the least expensive type of automatic driveway gate due to the simple opening mechanism compared to other gate styles.  These gates cost between $500 and $3,000.
Bi-Fold Swing Gates:
Bi-fold swing gates use two pieces for the main gate and open simultaneously, similar to French doors.  The prices for bi-fold swing gates are slightly higher compared to standard swing gates, averaging between $1,000 and $4,000.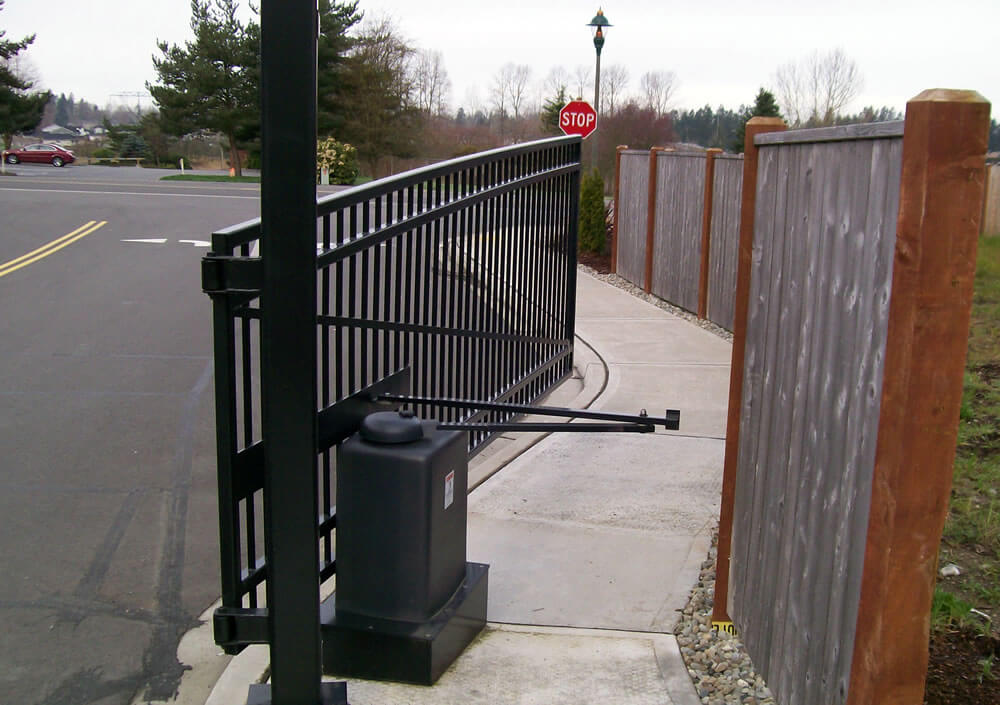 Sliding Gates:
Sliding gates are some of the popular options because they can look more substantial and potentially offer greater privacy depending on what materials they are made of.  These may cost between $500 and $3,000.
Vertical Pivot/Lift Gates:
These gates are more common on commercial properties and warehouses, or a residence where space is especially limited.  Basic metal lift gates can be relatively affordable ranging between $500 and $4,000.  Custom luxury designed wooden, or aluminum lift gates can cost as much as $12,000 or more.
Curving Sliding Gate:
A curving sliding gate can be an excellent option if you prefer the design and aesthetic of a sliding gate but are restricted on spacing.  With curving sliding gates, the gate will round a corner and change directions when opened.  In some designs, the gate itself may also be curved at an angle and simply slide along an angled track when opened.
Wrought Iron Gates:
Wrought iron gates provide a classic look, durability, and can be very cost-effective.  However, they generally don't provide the same level of privacy as wooden gates.  Prices for wrought iron gates typically range between $600 and $4,000.
Wooden Electric Gates:
Wooden gates can give you a sophisticated or luxurious look to any property, with the added benefit of the increased privacy that comes with a gate that can't be looked through.  Wooden gates can be some of the most expensive options ranging between $300 and $4000.  Certain premium options like cedar wood can provide enhanced durability but come with a higher initial investment.
Vinyl Electric Gates:
Vinyl gates provide a less expensive alternative ranging in prices between $200 and $1,000. However, vinyl gates can be more prone to damage and offer less durability.
Aluminum Electric Gates:
Aluminum gates can provide a sleek and modern look, as well as a lightweight design, but they tend to carry a higher price tag and can be more prone to denting, ranging between $2,000 and $4,000.
Steel Electric Gates
While heavier than aluminum gates, steel gates can be more affordable and more durable to damage.  Steel gates typically range between $600 and $4000.
The average installation cost of an automatic driveway gate is between $820 and $3328.  You will need to include this figure in any gate option you consider.  The total cost of your gate investment will ultimately depend on the materials, size, and features you chose for your gate, as well as local labor costs.  Luxury or custom gate designs and additional security options such as cameras, detection sensors, and intercoms can add hundreds or thousands to your total costs.  Fully equipped automatic driveway gates can cost more than $12,000.
Looking for Gate Installation Services in New Jersey?
If you're looking for a professional fence and gate installation company, Direct Fence is here to take care of you. Our years of experience in the fence business have helped us create a fence installation process that is truly second-to-none. From small residential fences to large commercial fencing, we provide superior fence installation. We provide fence installation services in the area of new construction homes, existing homes, condominium/apartment complexes, commercial/office buildings and development/perimeters. We specialize in installing vinyl fencing, wood fencing, aluminum fencing, chain link fencing, and more! Our fence installations are done by seasoned professional contractors. We serve much of NJ including North Jersey, South Jersey, and the Jersey Shore areas, as well as Staten Island. New Jersey service counties include: Monmouth County, Essex County, Morris County Sussex County, Middlesex County, Mercer County, Hunterdon County Union County, Warren County, Bergen County, Ocean County and more! For more information or to receive a free quote, give Direct Fence a call or fill out our contact form.
NJ Vinyl Fence Supplier & Installation Company Home
Other Posts:
North Jersey Fence Installation