Instantly recognizable, split rail fences are made of two, three, or four horizontal rails connected to evenly spaced vertical posts.  You can construct them with wood, vinyl, composite, or metal.  Decorative split rail fences in front yards are typically 4 feet tall, while ones used for containing livestock are 6 feet (called ranch rail fences).  The variety of materials and versatility of the simple construction has made the rail fence a staple installation for residential properties.
Post and Rail Fences
At an average cost of only $20 per linear foot, a rail fence is one of the more affordable ways to protect your livestock or stylishly section off a perimeter.  A ranch-style rail fence can be ideal for keeping large animals, such as horses, contained and protected.
Easy to Install
Because rail fences use so few materials and simple tools, installation is often easy enough to DIY.  In many cases, it is only a matter of securing posts to the ground at regular intervals and slotting the rails into their appropriate grooves on those posts.  You could install it in a day or two, depending on how much land you have to cover.  No specialized tools are required.
Low Maintenance
Because the fences are often made with cedar or pressure-treated wood, rail fences resist decay and breakdown, minimizing the need for repairs and upkeep.  If the fence is vinyl, composite, or metal, you won't have to worry about staining or painting it, saving you money on maintenance costs.
The simple maintainability of rail fences means they are ideal if you want a set-it-and-forget-it fence that will stand the test of time.  Often made of wood that is naturally hardy and processed to be weather resistant, a rail fence will outlast many other barriers while also being easy to repair when it does break.  Using simple tools, you can repair damage to a rail fence quickly and easily.
Variety of Materials and Styles
A rail fence can be made of various materials and colors.  For example, you may prefer a white vinyl ranch rail to show off your boundary line or a simple yet classy pressure-treated pine split rail to contain animals or separate sections of land.
Types of rail fences vary, too — you can choose two to four horizontal boards and flat or round timber.  As an alternative to the traditional ranch rail design, you could opt for a standard crossbuck design for a pricier, yet elevated, look.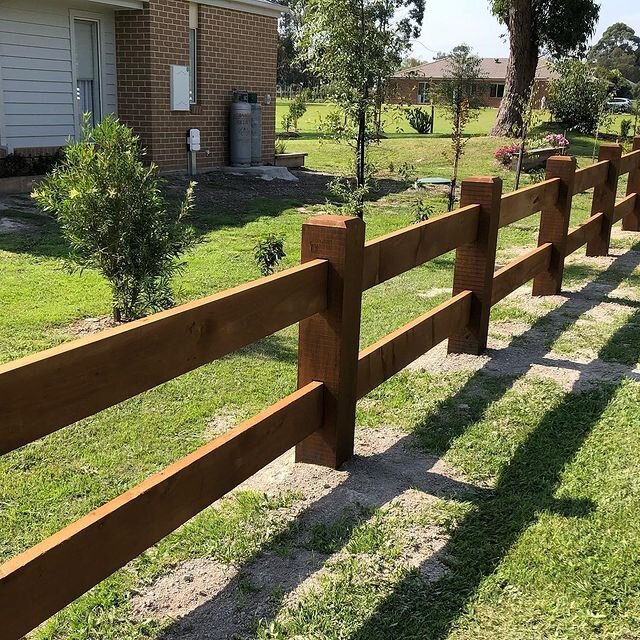 Increased Curb Appeal
A picturesque rustic fence will increase your home's curb appeal and boost its property value. Potential buyers can see your landscaping and any livestock in their full glory thanks to the rail fence's ability to provide security that looks charming, rustic chic while not overtly obstructing the expansive view of your home.
Land and Livestock Containment
Rail fences allow you to contain a large area of land with minimal resources, with posts widely spaced and requiring a simple hole in the ground and additional support material like gravel or soil and tamp to hold it in place.  If you own a ranch or farm and keep livestock such as horses and cattle, making sure they stay confined on your land is a top priority.  Ranch rail fences (also called split rail) are perfect for preventing animals from getting lost or keeping predators out.
Downside of rail fences
Rail fences can be visually pleasing but aren't designed for privacy.  There's usually just open space between the rails, giving anyone nearby an almost unobstructed view through the fence. You can apply wire mesh to those spaces, but if privacy is your most significant need, a privacy fence may be a better choice.
Doesn't Contain Small Pets or Animals
A rail fence might keep your large animals in, but beyond that, it's not a challenge for almost any other animal to cross.  This includes your cats, dogs, and small livestock, such as pigs and chickens.  More importantly, a rail fence will not keep wild animals off your property, such as coyotes, bears, deer, or other people's cats and dogs. Depending on the animals you want to keep in or out, attaching chain-link or wire mesh to the fence will solve these problems, though this will add cost to both the build and maintenance.
Minimal Security
Unlike security fences, rail fences are not designed to protect a property from intruders.   While it may stop someone from wandering accidentally over your property lines, a determined trespasser will have no problem climbing over the ladder-like structure onto your land.
The rail fence will present a clear visual boundary that you can see from a distance without obstructing the view beyond.  This means that looking out, you can see who or what is approaching, but similarly, they can see you, too.
Limited Aesthetic
If you live in a neighborhood with a lot of wrought iron or ornamental wooden fences, you might feel like you stand out uncomfortably by installing a split rail fence.  That's a personal choice but be aware that this rural fence doesn't always mesh well in the city or suburbs.
Trickier Lawn Mowing
To keep the lawn neat and evenly trimmed, you'll need to be a little more cautious when mowing and landscaping around your new rail fence to avoid damaging it with machinery.  Without proper care, a lawn growing around a rail fence can begin to look messy as grass grows around the posts a lawn mower can't reach.  When necessary, we recommend using a weed eater a half inch's distance away to clean up around fence posts.
Cost of Rail Fences
You'll pay between $ 1800 to 4000 to have a professional contractor install a split rail fence, depending on the size of the fence and its material.  Nationwide, the average split rail fence costs about $2,850.  Installers often charge by foot, in this case, about an average of $20 per linear foot.
By material, split rail fences cost about $11 to $20 per linear foot for a cedar fence, $11 to $21 for pine, $14 to $26 for composite, $18 to $29 for vinyl, $20 to $27 for steel, and $25 to $34 for aluminum.   Since rail fences are long-lasting and take less maintenance, the upfront costs are worth the long-term savings.
Looking for an Experienced and Reputable Fence Company in New Jersey?
If you're looking for a great fence company, Direct Fence is here to take care of you. Our years of experience in the fence business have helped us create a fence installation process that is truly second-to-none. From small residential fences to large commercial fencing, we provide superior fence installation. We provide fence installation services in the area of new construction homes, existing homes, condominium/apartment complexes, commercial/office buildings and development/perimeters. We specialize in installing vinyl fencing, wood fencing, aluminum fencing, chain link fencing, and more! Our fence installations are done by seasoned professional contractors. We serve much of NJ including North Jersey, South Jersey, and the Jersey Shore areas, as well as Staten Island. New Jersey service counties include: Monmouth County, Essex County, Morris County Sussex County, Middlesex County, Union County, Warren County, Bergen County, Ocean County, Mercer County, Hunterdon County and more! For more information or to receive a free quote, give Direct Fence a call or fill out our contact form.
NJ Vinyl Fence Supplier & Installation Company Home
Other Posts:
North Jersey Fence Installation
Staten Island Fence Installation
The Importance of Installing a Commercial Fence
Choosing the Best Type of Fence for Your Home